Why choose TWG LANTEC winches and hoists?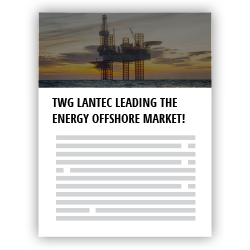 Tired of scrolling? Download a PDF version for easier offline reading and sharing with coworkers.
Experience the power of LANTEC Hydraulic Winches and Hoists.
LANTEC® planetary winches are backed by the strength of TWG, a global leader in the development and manufacture of standard and engineered winch, gearbox and electronic monitoring systems for worldwide industries.
About TWG LANTEC Hydraulic Winch and Hoist Equipment
LANTEC's fully hydraulic gearing products are engineered for exceptional performance under the toughest offshore conditions. No matter where you operate, LANTEC equipment offers maximum reliability, cost-effective operation, and the flexibility of versatile power sources. With a wide range of options to meet your specific application, LANTEC delivers the long life and low maintenance our customers have come to expect.
LANTEC…Recognized worldwide for providing highly dependable hoists, winches and planetary drives for the most demanding applications. Over forty years of technical know-how and application experience are brought together with state-of-the-art manufacturing techniques to produce the ultimate in reliability, versatility, quality, and value.
Our low warranty cost is the envy of the industry and a testament to our rugged, reliable design.
Fast, dependable delivery with competitive pricing. LANTEC is responding to customer needs for minimal inventory and ever-shorter lead times.
What Makes a LANTEC LH Series Hoist Superior to the Competition?
The answer is in the engineering details. For over 40 years, LANTEC has been designing and building very reliable and robust hoists, winches and planetary gear drive products for the offshore drilling and production market.
LANTEC offers hoists and planetary drives for the offshore industry certified to various regulatory bodies, including API (American Petroleum Institute), ABS (American Bureau of Shipping), and DNV (Det Norsk Veritas).
Why Choose LANTEC?
LANTEC puts reliability above all else.
LANTEC saves money in the long term.
LANTEC builds a superior hoist in every detail.
LANTEC provides the security and peace of mind that comes from knowing you've purchased the most cost-effective and reliable hoist available for your demanding application.
LANTEC Hydraulic Winches & Hoists and Applications
Pullmaster Equal Speed planetary winches offer maximum torque in both directions of rotation and give operators maximum control over the load. In applications that require precise lifting and lowering and load suspension, Pullmaster Equal Speed winches deliver the industry's most reliable performance. Ideal for a wide range of applications or special operations.
LH Series Hoists: Twelve models with line pulls from 15,000 to over 72,000 lbs (67-321 KN) assure you there's an LH Hoist for your crane application. High-efficiency gearing and high-capacity sprag clutches offer the highest reliability for your demanding job.
LW Series Winches: Extremely versatile winches, the LW Series is available in 20 sizes with line pulls from 12,000 to 300,000 lbs (53 kN to 1,334 kN). Virtually any drum size can be provided to suit your specific application.
Classic Series: Three basic models make up the classic LANTEC winch. Applications in Oil & Gas, Infrastructure and other industries are commonplace for these winches. Custom drum sizes are available for each job.
Brakes and Clutches: Standard brake solutions for high torque, low-speed hydraulic motors with holding torque capacities up to 30,000 lb-ft (40,674 Nm). Custom brakes and clutches are available designed to meet your individual requirements.
Gear Reducers: A wide variety of custom and semi-custom designs are suitable for a myriad of industries including Oil & Gas, Material Handling, Infrastructure, etc. Torque ranges from 10,000 lb-ft to over 500,000 lb-ft (13,558 to over 678,000 Nm).
Custom Solutions: Almost any winch, gear reducer or brake can be designed and manufactured to meet your specific application requirements. LANTEC has been designing custom products for over 40 years.
This tremendous experience allows us to assist you in designing and manufacturing the ideal solution for your most demanding projects. Contact us with your specifications.
LANTEC Hydraulic Winches & Hoists Options
LANTEC LH Series Hoists and LW Series Winches are available with a wide variety of optional configurations and accessories to create the hoist that meets all your needs.
Drum Configurations: Beyond the range of standard drums, LANTEC offers:

Alternate drum sizes quickly and efficiently manufactured to match your cable storage requirements
Special cable anchoring methods including synthetic rope anchoring
Multiple cable anchors for multiple cable or "On-Off" applications
Drum divider for multiple cable applications
Grooved drums with spiral grooving
LeBus® parallel groove drum sleeves

Optional Gear Ratios: LANTEC offers optional gear ratios to permit the most economical matching of  performance requirements with motor performance.
Hydraulic Motor: LANTEC supplies the hoist or winch with a hydraulic motor that matches the customer's hydraulic system to provide optimum performance. Hoists and winches are also available without motors for customers who prefer to supply their own.
Motor Mounting Configurations: LANTEC provides either an SAE C or D motor mount.  Other motor mounting configurations are available to support most hydraulic motors including DIN and ISO standards.
Ratchet & Pawl: LANTEC offers a spring engaged, hydraulic pressure released ratchet and pawl package.
Multi-disc Brake: LANTEC includes a standard multi-disc, friction brake with a sprag type, overrunning clutch for hoisting applications. The brake is available without the overrunning clutch for applications requiring a brake effective in both directions, such as slewing or positioning.
Drum Brake: LANTEC offers a band brake acting directly on the drum. Band brakes are available with a variety of actuator types and in "marine duty" configurations.
Levelwind: LANTEC provides a powered level wind device to assist in proper winch (LW Series) cable spooling for applications with a large fleet angle.
Drum Pressure Roller: LANTEC provides a roller, forced into contact with the cable on the drum by adjustable springs to assist with proper cable spooling. This option is also available with sensors indicating top and bottom layer conditions.
Encoder Drive: LANTEC offers a light-duty output shaft for driving a rotary encoder to monitor drum speed and/or position.
Coatings: LANTEC provides Marine Epoxy and other special coatings.
LANTEC LH Series personnel handling rating: While LANTEC LH Series Hoists are generally NOT intended for personnel handling, special configurations are available for use on offshore cranes operated under the provisions of the American Petroleum Institute (API) Specification 2C. Please consult the factory.
LANTEC Motor Selection & Types
LANTEC LH Series Hoists and LW Series Winches utilize a gear motor designed for performance characteristics specifically suited to hoisting and winching applications.
For high-pressure hydraulic systems on mobile or offshore cranes and equipment employing piston pumps and high-grade system components, we offer SAE C or D motor mounting configurations.
LANTEC can supply the hoist or winch with a variety of motor types and sizes to best match your system configuration and performance needs. Some crane and equipment manufacturers prefer to retain complete system responsibility. Therefore, LANTEC offers the hoist or winch shipped from the factory without a motor. This allows the customer to supply the Motor and Brake Valve that best suits the application.
LANTEC Motor Types
Standard Motor
2-Speed Motor
Piston-fixed Displacement
Piston-Variable Displacement
Electric Motor
Radial Piston-Fixed and Variable Displacement
LANTEC Parts and Services
Parts: LANTEC stocks all wear parts for quick shipment to any location worldwide.
Service: LANTEC provides in-factory service of your hoist including visual inspection, magnetic particle inspection, re-certification, rebuild, testing and re-coating.
Compare LANTEC's Superior Details
Brake Valve: LANTEC's Brake Valve is the industry's most stable and reliable, designed for high efficiency and capable of very high flow rates. Valve orifices are kept free from clogging with a built-in high-grade filter, reducing the probability of downtime due to a malfunctioning Brake Valve, one of the most common problems in the field. LANTEC LH Series Hoists are designed to save you money over the long term.
High Design Factor: Pull tests (witnessed by ABS) on Model LHS160 proved that the representative hoist could withstand well over 3 times its rated drum torque without failure. This is indicative of LANTEC's conservative design approach.
Sprag Clutch: LANTEC LH Series Hoists employ a high-capacity, long-life Sprag Clutch. LANTEC's Sprag Clutch incorporates a state-of-the-art, antirollover feature ensuring positive holding even under very high overload conditions.
Brake Springs: LANTEC LH Series Hoists offer the added safety of redundancy in the brake springs. LANTEC uses 12 compression-type coil springs in parallel. These die springs are designed for use in the demanding mold industry and exhibit a long life at very high cycles. In the unlikely event, several springs were to fail, LANTEC's brake still retains sufficient capacity to stop and hold the load.

In comparison, the competition utilizes a single coil spring or a single stack of washer-type springs stacked in a series. Brake capacity is lost with the failure of even on spring.

Self Contained Drive Modules: Most LANTEC LH Series Hoist models are designed with the complete drive module removable as a single package. This feature helps maintain alignment of drive components and provides for faster, easier field service and convenient core exchange.
Modular Design: LANTEC LH Series Hoists use many common components throughout the LH Series Hoist line, resulting in lower spare parts inventory cost. For example, the complete brake module is identical for all LH Series Hoists.
Larger, Longer Life Gearing: LANTEC puts more gear capacity in LH Series Hoists, providing you with a long life and a higher degree of reliability.
Replaceable Planet Bearings: LANTEC LH Series Hoists employ only complete roller bearings in the Planetary Gears, providing the benefit of low-cost replacement of the bearings without having to replace the Planet  Gear and the Planet Pin. With our competitors, replacing a Planet Bearing means an expensive replacement of the Planet Gear and Planet Pin, in addition to the bearing itself. LANTEC saves you money in the long term.
Motor Mountings: LANTEC LH Series Hoists accommodate both SAE C and SAE D hydraulic motor frames.
One Seal Kit: LANTEC LH Series Hoists use one Seal Kit to cover the complete LH Series Hoist line, offering the advantage of stocking fewer standby parts and reducing inventory costs.
Seal Running Surfaces: LANTEC LH Series Hoists include corrosion-resistant running surfaces for all oil seals, offering long seal life even in demanding, marine environments. This important feature means that  expensive parts won't need to be replaced due to corrosion of the seal running surface and subsequent seal failure. This reduces the danger of running the hoist without oil, lowers the cost of downtime and the  environmental risk of an oil leak.
Gear Ratios: LANTEC LH Series Hoists have a broad selection of gear ratios. This allows better matching of the hoist to your exacting requirements.
Robust Base: LANTEC LH Series Hoists use cast base components and heavy-duty cast tie bars, providing excellent assembly alignment and a more rigid base for handling and mounting. The higher torsional stiffness helps to keep internal parts aligned when under load. In addition, the tie bars are resistant to corrosion compared to the thin, steel plate used by our competitors.
Optional Drum Sizes: LANTEC LH Series Hoists offer a more extensive list of standard drum sizes. Custom drum sizes are available with reasonable delivery at an attractive price for your special applications.
Exclusive "No-Spill" Oil Change System: Most LANTEC LH Series Hoists include a self-contained, "No-Spill" oil change system for faster and environmentally friendly oil changes. Using ordinary tools, the self-contained oil drain tube is extended from the drum to the outside of the hoist, making oil changes convenient, safe and consistent with good environmental practice.
Magnetic Plug: LANTEC LH Series Hoistsinclude a heavy-duty magnet, extending into the oil sump. This magnet is built into the large oil fill plug and is easily removed for inspection. The magnet traps significant metal particles contained in the oil, resulting in better lubricating properties and longer component life. The quantity of particulate on the magnet, together with periodic oil sample analysis, is a good diagnostic tool that can provide an indication of wear inside the hoist.
Ratchet & Pawl: For boom handling, LANTEC LH Series Hoists are available with a Ratchet and Pawl for positive locking of the drum. (Field installable Ratchet and Pawl Kits are also available.) On LH Series Hoists, the complete Pawl package is mounted within the hoist base. Competitor products have the pawl mounted separately, bolted to the crane itself. You save money with LANTEC by having far lower installation costs, not to mention saving the cost of having to periodically inspect and adjust the alignment of the Pawl to the Ratchet.
Interchangeability: LANTEC LH Series Hoists have identical foot mounting dimensions to many competitor hoists, allowing easy field replacement with the superior LANTEC LH Series Hoist. Line pulls and line speeds are comparable, or better. In general, drum sizes and wire rope capacities are comparable.
About Tulsa Winch Group
Around the globe, TWG's seven distinct brands are recognized for superior product performance and innovative capability. Our customers know DP Winch®, Gear Products, Greer®, LANTEC®, Pullmaster®, Rufnek® and Tulsa Winch® by the vital role they play in the energy, infrastructure and recovery markets. TWG engineers and manufactures industry-specific winches, hoists, gear drives, hydraulic pump drives, slewing ring bearings and monitoring electronics for energy, infrastructure, recovery, marine, and natural resource markets worldwide. The breadth and depth of our gearing solutions and electronic monitoring technology are put to the test under some of the most demanding conditions on earth.
TWG's capabilities include two world-class manufacturing centers and superior engineering to customize gearing and electronics solutions. Our ability to integrate data-capture technology into our product lines has made us an industry innovator and a market driver. Our North America headquarters is in Jenks, Oklahoma. Here, the combined operations of DP Winch, Greer, Gear Products, Rufnek, and Tulsa Winch provide a lean, streamlined approach to next-generation product development and problem-solving. Pullmaster and LANTEC products are manufactured in Surrey, British Columbia.
Tulsa Winch Group (TWG) Markets
TWG Energy Market
TWG's worm gear and planetary winches, hoists, rotation drives, gear reducers, and electronic monitoring solutions are put to work every day on equipment and truck fleets that service the onshore and offshore oil and gas industry, including drilling and production.
TWG Infrastructure Market
TWG's worm gear and planetary winches, hoists, rotation drives, gear reducers, swing drives, auger drives, slewing ring bearings, hydraulic pump drives, rotators and electronic monitoring solutions are used on cranes and heavy equipment that serve the construction and mining industry, light and heavy industrial applications, utility work, foundation drilling, and dredging.
TWG Recovery Market
TWG's worm gear and planetary winches, hoists, rotation drives, gear reducers, and electronic monitoring solutions are used on cranes, wreckers and heavy equipment that serve government, towing, marine and forestry.
TWG Marine Market
TWG's planetary hoists and winches, rotation drives, SRB's, swing drive and gear reducers, hydraulic pump drives are used on fishing and research vessels, workboats, barges, dredges, tug-boats, and marsh buggies.
TWG Natural Resource Market
TWG's worm gear and planetary winches, hoists, rotation drives, gear reducers are used on pipe layers, feller-bunchers, skidders, forwarder's, harvesters, mulchers, yarder systems, blast hole drills, water well drills, rock crushers, and rock breakers serving the forestry, pipelayer and the mining industry.
Tulsa Winch Group (TWG) Customers
TWG serves Original Equipment Manufacturers (OEMs), distributors and fleet customers of cranes, trucks, industrial platforms and heavy equipment throughout the world. We work closely with our customers to develop innovative gearing and electronic monitoring solutions that enhance equipment performance, minimize equipment risk and create added value for owners and operators.